Autumn Bingo Night 2019
A big thank you to everyone who came to support our recent Bingo night, we raised £203.62!
Autumn Bingo Night 2018
A big thank you to everyone involved in the Bingo night on the 13th October. The hard work certainly paid off and we raised… £531.10!! Amazing job everyone!
Cricket Sixes Tournament
Many thanks to all those involved at the Breachwood Green Cricket Sixes Tournament on the 23rd June – especially those who organised, kindly donated, helped out and those who bought raffle tickets.
It was a great fun day of cricket and a celebration of the Pre-school being open 40 years, raising a fantastic £280!! This will go towards redecoration during the summer holidays.
Preschool Bingo Fundraising Night
Thank you to all who came to support our event on Saturday 28th April, we raised a fantastic £400!!
ZooLab
As a treat we welcomed back ZooLab for the last day of term, and once again the children loved meeting all of the unusual creatures. We hope you all have a lovely summer holiday and look forward to seeing you in September. To those leaving us for big school we wish you all the best.
Fundraising Bingo
Our Bingo Night in April raised just over £370! Thank you to everyone who came. We have put some of the money raised towards buying this Anchors Away Pirate Ship 🙂
Christmas Fundraising Disco
Thank you everyone for coming to our disco on Sunday 11th December.
ZooLab
For our last day of term the children were treated to a visit from ZooLab. Everyone really enjoyed meeting the wonderful creatures in this hands on experience and learning more about them. Thank you to all that attended, including some of the children who attend our regular Friday Stay & Play, and we hope you all enjoy the Summer holidays.
Big Summer Bingo
Thank you to those who supported our Bingo night on Friday 8th July 2016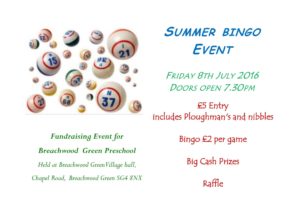 Sports Day 2016
This year we decided to break away from our more traditional Sports Day and go with what the children really enjoy which is pretending to be animals. Lots of the children came up with some really good ideas! Without exception the children all love these games which nurture their creative and expressive skills, not to mention physical development.
Children's Spring Disco
Thank you to all who attended our Spring disco on 17th April 2016 which was thoroughly enjoyed by all the children (& adults!)
Children's Christmas Disco
We enjoyed a wonderful Christmas disco on Sunday 6th December 2015 which included a visit from Santa 🙂
Preschool Bingo Fundraising Night
Thank you to all who came to our bingo night on Saturday 10th October 2015 and thank you to all those you donated such lovely raffle prizes.
Today the children and parents enjoyed a fun morning at our annual Sports Day.
Annual General Meeting
Thank you to everyone who attended our AGM on Wednesday 24th June 2015
Preschool Bingo Fundraising Night
Saturday 25th April 2015
Thank you to everyone who attended and helped us to raise over £400 for the preschool!